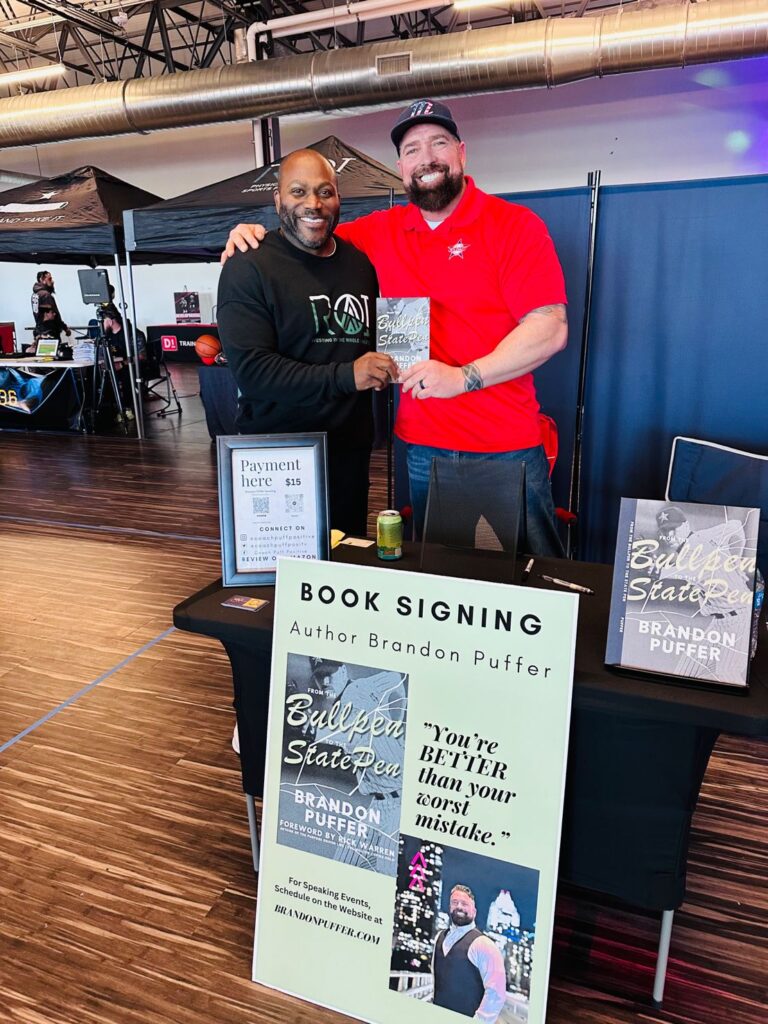 From the Bullpen to the State Pen: Brandon Puffer's Journey of Redemption and Grace
At Streamline Books, we are thrilled to share the inspiring success story of Brandon Puffer. A former Major League Baseball player who experienced a tumultuous journey filled with both triumph and tribulation, Brandon's book, "From the Bullpen to the State Pen," Serves as a testament to the power of redemption and the unwavering grace of God. In this blog post, we'll delve into Brandon's captivating story, his transformative publishing experience with Streamline, and the profound impact his book has had on readers. 
The Baseball Career and a Lesson in Humility
Brandon Puffer's life revolved around his passion for baseball. With a career marked by ups and downs, he experienced the glories of the Major League and the crushing weight of bad decisions. As Warren Buffett wisely stated, "It takes 20 years to build a reputation, but only five minutes to ruin it." Brandon lived out his truth and found himself at a crossroads, facing the consequences of his actions. 
Embracing Redemption and Emphasizing Faith
"From the Bullpen to the State Pen" chronicles Brandon Puffer's gripping journey, shedding light on his MLB career, his personal struggles, and the transformative power of God's grace in his life. This book serves as an instrument of hope for anyone who has faced their own "worst mistake" moments, emphasizing that redemption and forgiveness are available to all, regardless of the past. 
Brandon's Transformation: A True Child of God
Through his tribulations, Brandon Puffer came to a humbling realization: he was more than just a baseball player; he was a child of God. This revelation propelled him on a journey of self-discovery and transformation. In the pages of his book, Brandon shares valuable insights on how to live life according to this newfound understanding, encouraging readers to embrace their own identity as children of God and approach each moment with purpose and determination. 
Reader Testimonials: A Glimpse into the Impact
"From the Bullpen to the State Pen" has touched the hearts of readers from all walks of life. The reviews on Amazon attest to the profound impact the book has had on its readers. One reviewer appreciated Branon's transparency, acknowledging that the path to freedom lies in acknowledgement, forgiveness, and moving forward with God's help. The book's message of grace and redemption resonates powerfully with readers, reminding them that even amidst their worst mistakes, God's love is readily available. 
Another reviewer, while not necessarily religious, commends Brandon for his advocacy of compassion and empathy. The reviewer highlights the book's emphasis on showing up for others, being humble, and taking accountability for one's actions. By sharing his story and displaying genuine humility, Brandon has become a beacon of hope, illustrating the true essence of Christianity. 
Brandon Puffer's Transformational Experience with Streamline Books
In his Google review, Brandon expressed his gratitude and appreciation for the transformative experience he had while working with Will and Alex, the dedicated Co-Founders of Streamline. His words paint a vivid picture of the profound impact Streamline had on his life and the fulfillment of his lifelong dream to publish a book.
"I have always had a dream to publish a book. It was always a dream I would pick up and put back down," Brandon reflected. Like many aspiring authors, he faced moments of frustration and doubt, questioning whether he would ever see his book come to fruition. However, everything changed when Brandon crossed paths with Will and Alex from Streamline Books. They provided the accountability and support he needed to bring his story to life.
Brandon's review continues, "They held me accountable and brought my story to life! This was so much more than a transaction. It was a life-altering, transformational experience!" These words beautifully capture the depth of the connection Brandon formed with the team at Streamline. It was not merely a business transaction but a collaborative journey that touched Brandon's life at its core. The process of publishing his book became a catalyst for personal growth, self-discovery, and profound transformation.
The impact of Streamline Books goes beyond the fulfillment of Brandon's dream; it forged lifelong friendships. "Not only did they bring my story to life and make my dream come true, I gained two best friends!" Brandon exclaimed. This statement speaks volumes about the genuine care and dedication of Will and Alex, who not only guided Brandon through the publishing process but also formed an enduring bond with him. Their partnership extended far beyond the pages of the book, fostering a deep connection and friendship that Brandon will cherish forever.
Brandon's heartfelt review concludes with a profound sentiment: "I will cherish my relationship with Streamline forever, and thanks to them, my story will also last forever." These words reflect the lasting impact Streamline Books had on Brandon's life and the legacy he now leaves behind with his published book.
Ultimately, Brandon Puffer's book, "From the Bullpen to the State Pen," stands as a testament to the resilience of the human spirit and the transformative power of grace. Through his story, Brandon offers hope, guidance, and a profound reminder that no matter the mistakes we've made, redemption and forgiveness are within reach. Streamline Books is proud to have played a part in bringing this remarkable story to the world. Stay tuned for more inspiring author success stories as Streamline continues to empower writers to share their unique voices and messages with the world.