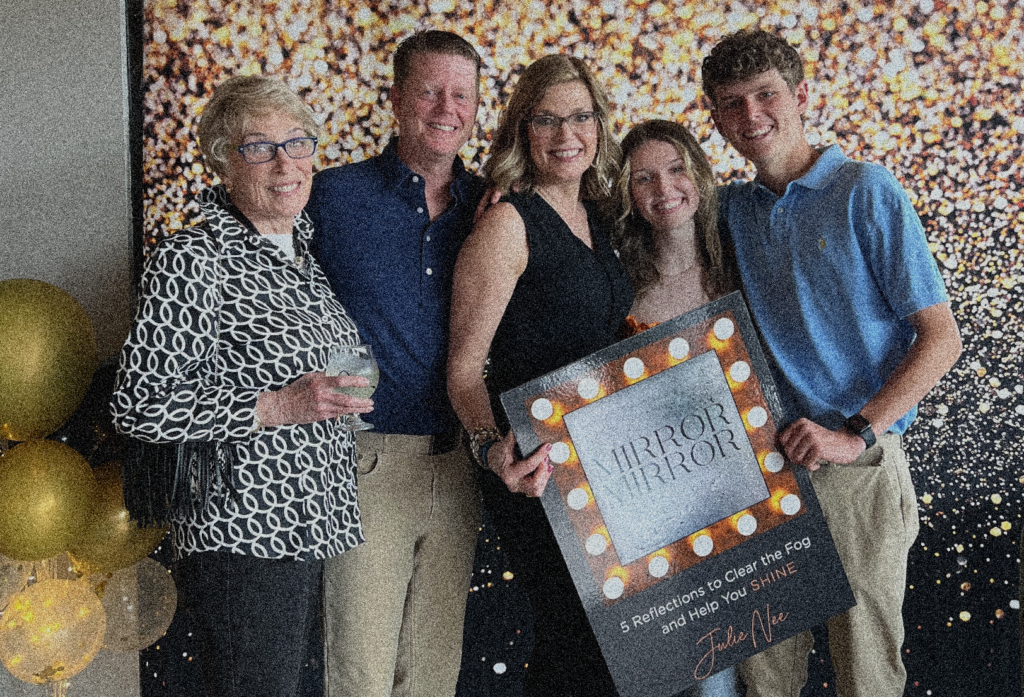 Mirror Mirror: Embracing Inner Beauty and Personal Power with Julie Nee
At Streamline Books, we are excited to share the uplifting success story of Julie Nee, trainer, speaker, and author of the inspiring book "Mirror Mirror." With a profound message of self-empowerment and embracing inner beauty, Julie's book offers a transformative framework for readers to reclaim their power and overcome self-doubt. In this author's success story, we will explore the transformative pages of "Mirror Mirror," the impactful feedback it has received from readers, and Julie's positive experience working with Streamline Books to bring her vision to life.
Getting to Know Julie Nee
Julie Nee is a leader, motivator, and passionate teacher of all things positivity. With 25 years of experience in building businesses, leading teams, and developing people, including 19 years at The Hershey Company, she has honed her skills in heart-centered leadership and enthusiasm. Julie co-created The Power of Positive Leadership Training and has brought positive mindset and leadership work to clients across a wide variety of industries, training leaders across the U.S. and around the world. Her expertise and dedication to uplifting others shine through in her impactful book, "Mirror Mirror."
Embracing Inner Beauty and Personal Power
"Mirror Mirror" is a book that challenges the negative self-perception many of us face when we gaze into the mirror each morning. Julie Nee presents a refreshing perspective, urging readers to see beyond the distorted image of lack, comparison, and negativity. Instead, she invites us to envision a reflection filled with smiles, acceptance, and joy. Through personal stories, insightful research, and a practical framework, Julie demonstrates that true power lies within ourselves. By engaging in reflection and taking intentional action, we can seize control of our moments in front of the mirror, erase the fog of self-doubt, and break free from limitations that hinder our growth.
Impactful Feedback from Readers
The Amazon reviews for "Mirror Mirror" are filled with heartfelt praise and appreciation for Julie's genuine and relatable approach. Readers are drawn to Julie's energy and candor, feeling as though they are conversing with a trusted friend who understands the demands of daily life. They commend her for sharing personal challenges, including the sudden passing of a family member and her battle with breast cancer. Julie's willingness to open up about the hardships of life resonates deeply, and she provides readers with practical concepts and coping strategies to navigate their own journeys of self-improvement.
One of the standout aspects of "Mirror Mirror" highlighted in the reviews is Julie's emphasis on self-reflection and the question, "What's it like to be on the other side of me?" Readers find this concept incredibly powerful as it encourages introspection and prompts them to examine how they show up in various areas of life, such as work, relationships, and friendships. Julie's extensive writing on gratitude also strikes a chord, as she shares her own experiences of being thankful in the midst of challenging situations, allowing readers to appreciate the support and love they receive even during difficult times.
Reviewers describe "Mirror Mirror" as a dynamic book that offers an abundance of practical ideas and techniques for personal growth. They appreciate Julie's background as a corporate trainer and motivational speaker, as her expertise shines through in the pages. Readers feel genuinely supported by Julie, sensing that she is rooting for their success and well-being. Many express their desire to keep the book close at hand, using it as a daily source of encouragement and a reminder of their strengths, power, and inner beauty.
Julie's Positive Experience with Streamline Books
Julie Nee's review of Streamline Books echoes the positive experiences shared by other authors who have worked with the team. She expresses her appreciation for the entire Streamline team and their encouragement throughout the process. Julie highlights the exceptional people at Streamline, emphasizing that their support made a significant difference in her journey. She states, "their process is great, but it's the people who really make it great." She specifically mentions her editing partner, who provided invaluable suggestions and tweaks to enhance her manuscript, offering hope and guidance when she felt stuck. Nee concludes her review by advocating for the publishing company, stating, "I highly recommend Streamline to help you get your book into the world!" Julie's recommendation of Streamline Books as a trusted partner in bringing books to the world speaks volumes about their commitment to authors' success.
"Mirror Mirror" by Julie Nee is a powerful guide to embracing personal power, cultivating gratitude, and illuminating one's authentic self. Julie's heartfelt and relatable approach resonates deeply with readers, inspiring them to transform their self-perception and live each day with intention. Streamline Books is honored to have collaborated with Julie in bringing her vision to fruition and will continue to support authors in sharing their stories and impacting lives. As we celebrate Julie's success, we eagerly anticipate the next wave of empowering stories that will inspire readers to embrace their true reflection and shine brightly in the world.