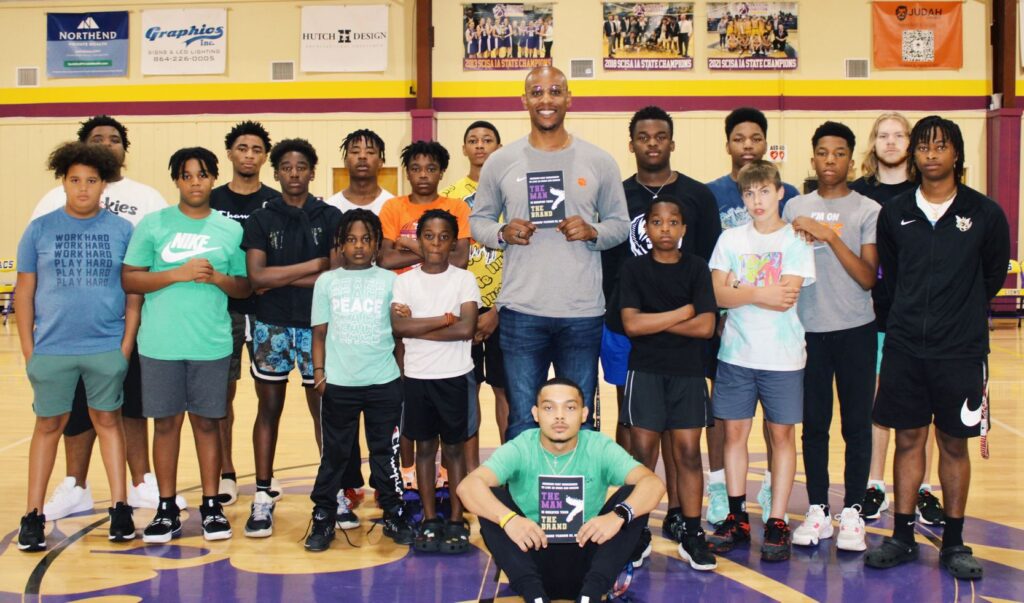 The Man is Greater than the Brand: Richard Yeargin's Inspiring Journey of Character and Resilience
At Streamline Books, we are thrilled to share the remarkable success story of Richard Yeargin, author of "The Man is Greater than the Brand." Richard's journey is a testament to the power of character and resilience, and his book has touched the lives of readers around the world. In this blog post, we will delve into Richard's moving story, his transformative experience with Streamline Books, and the profound impact his book has had on readers.
Richard Yeargin III is a former defensive end for the University of Clemson and Boston College. With a degree in Sports Communication and a master's degree in Athletic Leadership, Richard combines his athletic background and passion for coaching to deliver his powerful message. "The Man is Greater Than The Brand" is a collaboration with his mentors, conveying the crucial message that one's character outweighs reputation in every aspect of life.
In his book, Richard Yeargin challenges the prevailing notion of elevating one's brand above all else. He explores the significance of who we are as individuals and how that should take precedence over how the world perceives us. Yeargin's practical guidance and profound insights resonate deeply in a world consumed by the constant need for validation and approval. In today's society, where the obsession with personal branding and online image is prevalent, this book communicates a very timely reminder that our worth and impact extend far beyond the brands we create for ourselves. Through the guidance of trusted voices and mentors, Richard empowers readers to embrace character-building traits and pursue their full potential. The result is a personal transformation that truly transcends any brand or digital facade. 
Reader Testimonials: Capturing the Essence of "The Man is Greater Than The Brand"
Richard Yeargin's book has received several glowing reviews on Amazon, with readers sharing their heartfelt experiences and the profound impact the book has had on their lives. Let's take a closer look at some of these inspiring reviews:
One reader shares, "Richard Yeargin III, in the most humble yet confident demeanor, shares his story…not to talk about himself, but to help other people. This story is incredibly stunning, inspiring, emotional, and powerful." This review highlights the raw authenticity and emotional depth of Richard's storytelling. Yeargin's selfless approach to writing is evident in his book, as he penned it with others in mind, not to focus on himself but to uplift and support those who read it.
Another reviewer expresses gratitude to Richard for sharing his remarkable resilience and courage, stating, "You are an inspiration to so many people, and your story is sure to change lives in a positive manner." This sentiment echoes the transformative power of Richard's story, illustrating how his journey resonates deeply with readers, offering hope and encouragement in the face of adversity.
The impact of Richard's book goes beyond inspiration; it serves as a catalyst for personal growth and self-reflection. A reviewer shares, "We can all learn something from Richard's story. Richard teaches us why it is important to surround yourself with good people and makes it clear that that's not enough…you need to be a good friend to others as well." This review highlights the valuable life lessons embedded within the book, inviting readers to examine their own relationships and the impact they have on those around them.
Richard's Experience with Streamline Books
Richard Yeargin's review of Streamline Books speaks volumes about his positive writing, editing, and publishing experience alongside the team. Richard states, "NEXT LEVEL! The entire process was seamless and meaningful at the same time. That's called living on purpose, and that's what Streamline helped me do." These words reflect the dedicated support and personalized approach that Streamline Books provides to every author, ensuring a smooth and purposeful journey from start to finish.
The collaboration between Richard Yeargin and Streamline Books resulted in a book that captures the essence of his message with authenticity and impact. From the initial concept to the final publication, the team at Streamline Books worked closely with Richard, pushing him to deliver his best work and ultimately create a book he could be immensely proud of. 
Richard Yeargin's story is a powerful reminder that character and resilience triumph over reputation and external perception. "The Man is Greater Than The Brand" has resonated deeply with readers, igniting personal transformations and inspiring individuals to embrace their true selves.  Through his compelling narrative and the support of Streamline Books, Richard has inspired countless individuals to prioritize character and authenticity. We encourage you to embark on this transformative journey by delving into Richard Yeargin's powerful book and discover the limitless possibilities of becoming the king or queen you were born to be.
Streamline Books is honored to have been part of Richard's journey, and we look forward to continuing our collaboration to bring more meaningful, inspiring stories to the world.